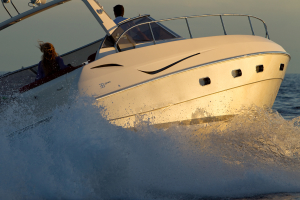 Welcome on board!
With Sorrento on Boat, we strive to create an unforgettable day at sea on board a luxury yacht along the breathtaking Amalfi Coast and the stunning islands of Capri and Ischia.
Choose our boat rentals and charters to discover the beauty of Sorrento, with our English-speaking captain at the helm, ready to take care of all the details so you experience a relaxing day or overnight trip on board.
Book your luxury boat tour or yacht charter of Italy's Amalfi Coast and Bay of Naples with us today!
Contact us at info@sorrentoonboat.com for more information, or book directly through our website.
Technical characteristics
Overall length (Lmax):12.30 m
Hull length (Lh):12.00 m
Max beam (Bmax):3.88 m
Standing height in cabin:~ 1.95 m

Fuel tanks: 740 l
Water tank: 400 l
Weight (engines included): 6.5 t
Berths: from 6/7 to 10